Storm Damage Restoration in Mesa, AZ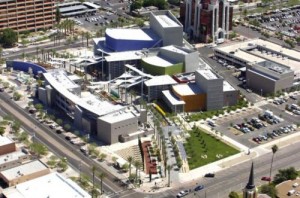 Owning a home and having a good career are two of the most prominent American dreams. Over the past decade, thousands of people have migrated to Mesa, Arizona, after the realization that Mesa is the perfect place to make this happen. Mesa is the third largest city in Arizona and the second largest in Maricopa County and has a large Mormon population. Set in the backdrop of the desert mountains and a lively cultural life, Mesa has become the ideal place to live. Sadly, a family's dreams of the perfect suburban life can be shattered by a natural or weather disaster, such as water damage, mold, fire or storms. Residents of the Mesa suburbs can have peace of mind, however, knowing that a Dry Now Services location is nearby. With locations through Phoenix's suburbs, the friendly and experienced staff at Dry Now Services can help prevent and repair damage caused by these natural weather disasters.
Water Damage Cleanup Process
Since Mesa is located in a dry, dessert setting, many homeowners do not realize that water damage can occur and can be extremely damaging and costly. In Mesa, the most damaging and thus costly water damage occurs from pipes bursting. Pipes burst after they have become clogged and water and contents are no longer able to pass through. The water then floods through the room, ruining flooring and furniture in the process. Dry Now Services' expert team will arrive within minutes of being called and begin repairing the cause and damage within the hour.
Fire Damage Repair
The warm, dry climate of Mesa makes home owners more likely to experience a fire. Lightning storms and dry heat can cause a simple spark to turn into a raging fire. The Dry Now Services knows the agony of having a home destroyed and works quickly to restore and remold all rooms destroyed by a fire.
Testing For Mold Fungus
Although mold is a natural and helpful fungus in the natural world, it can be extremely damaging to homes. Not only can mold ruin walls and flooring, but the released spores can also trigger breathing problems and make home members sick. Dry Now Services team members have the education and experience necessary to remove mold and repair the damage that mold left. Whether it be giving a free estimate or ripping out and replacing walls floors, the licensed and Dry Now Services can return you to your normal life as soon as possible.
Storm Damage Cleanup
Although the climate setting of Mesa makes it very unlikely that homeowners will experience a tornado or hurricane, there is always the risk of a damaging wind or lightning storm, or even the rare earthquake. The Dry Now Services teams believes prevention is the most cost efficient, and works to prevent damage by providing preventive services, such as window boarding and tarp laying on roofs.
Mesa is the ideal place to live. Dry Now Services wants each resident to enjoy everything the city has to offer without having to worry about possible damage from natural disasters.
Professional and educated staff members make our remediation and repair services the best choice all of your Mesa damage restoration needs!
Recommended Reading