Water Damage Repair Services in Fountain Hills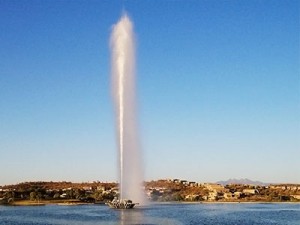 With more than 100 vacation rentals, several hotels and bed & breakfasts, dozens of restaurants, it's safe to say that Fountain Hills, Arizona, has a lot to offer her residents. Golfing at the country club, canyon and mountain views, artist galleries and spas for the ultimate in relaxation, there's nothing that screams 'basking in beauty and relaxation' quite like this gorgeous desert locale. But, when your home or business is attacked by water, fire, mold or storm damage, that relaxation and beauty seem to be the farthest from your mind – not anymore. By calling any one of our many locations in the greater Phoenix metropolis, you can have the benefit of Dry Now Services' trained and experienced professionals to take care of any damage restoration your residential or commercial property may have.
Cleanup Services For Water Damage
Water is an all-encompassing, far reaching force, one that comes not from torrential rains or opened floodgates but from within the walls of your own home or office. Leaky faucets, broken or bursting water pipes can cause untold destruction to the walls, the floors, the furniture, the very foundation of your property. When you discover the pervasive damage caused by water in your home or business, call in Dry Now Services. We can pump water out, clean and repair or restore your home until it's good as new.
Where To Turn For Fire Damage Repair
Fire is another wide-spread disaster, one that is at the forefront of every property owner's mind in this dry, arid climate. One spark can ignite a wildfire, eating away at the home or business you've spent years building up – and the mere thought of going through that, attempting to restore what once was, can be devastating. Dry Now Services' professional staff is onscene from the first phone call, taking care of the immediate mitigation needs so that a more in-depth walk-through can help them let you know what needs to be done to restore your property to its former state. Fire damage restoration is just one of the many services we offer to help home- and business owners get through the devastation of property damage.
Company Offering Mold Remediation
Mold is practically a curse word for most home owners – just the traces of mold in our bathrooms, our laundry rooms, our basements is enough to warrant a full-out attack on the invading spores. A whiff of that tell-tale odor, or the ugly appearance on the walls, and we're calling in the heavy artillery. Well, consider Dry Now Services to be defending force; we'll give you a free estimate and assessment as far as the damage the mold has caused, and let you know how deep that damage goes. Our mold damage restoration services include cleaning, repairing and restoring the afflicted areas until your home or business is, once again, mold-free.
Fountain Hills Storm Preparation
Though we may not have the hurricanes of the southeastern seaboard, the tornadoes of the Midwest or the ravaging snowstorms of the northern parts of the country, we here in Fountain Hill, Arizona have seen our fair share of wind and hailstorms. Although they don't enjoy the same infamy as other acts of nature, wind and hail can and do cause severe damage to homes and businesses in our little corner of desert. We at Dry Now Services pride ourselves on not only performing storm damage restoration, but even helping our clients prior to any inclement weather, by boarding up windows, laying down tarps and in general ensuring your property is storm-ready.
Fountain Hills, Arizona, enjoys a unique beauty, one that is enjoyed shamelessly by her residents. And part of the beauty of Fountain Hills is the serenity she invokes – a serenity that is threatened by water, fire, mold and storm damage to your home or business.
When you are in need of damage restoration services due to these factors or any others, Dry Now Services should be your first step to setting your property back to rights, and getting back to enjoying the splendor that is Fountain Hills.
Recommended Reading