Damage Restoration Services in Chandler, AZ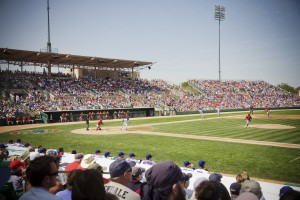 With more than 300 days of sunshine and beautiful weather, Chandler, Arizona has so much to offer her residents. From the Cactus League's spring training camp to the luxurious hotels to the gorgeous historic downtown, you won't find a place more suited for living and working. But when you own a property in Chandler, commercial or residential, you should know that Dry Now Services is here to take care of any damage restoration needs you may find yourself up against – water, fire, mold and storm, we can take care of the repairs and restorations these forces of nature can wreak on your home or office building.
Trained Professionals In Water Damage Cleanup
Water damage isn't caused solely by incessant downpours of rain – it can also come from within the walls of your own home. Leaking, damaged pipes can turn into broken pipes that pump water through the walls and floors of your home, causing destruction to everything it touches. Your basement and main floors can suffer catastrophic damage from burst pipes if the damage isn't tended to by skilled, trained professionals. Fortunately, when you're dealing with water damage, you won't find better than Dry Now Services; we can come in and repair or restore the various damaged parts of your home or office. Our water damage restoration services are top notch, with trained and licensed personnel handling your property like they would their own.
Fire Damage Repair Technicians
On the other hand, fire can catch nearly anywhere, either within or from without of your home or office. And when fire causes destruction to your property, there's only so much time before the subsequent smoke and water can destroy. By calling in our technicians at Dry Now Services, you're going to get a quick response. Our staff will be onsite shortly to perform the damage mitigation they can immediately, followed by a thorough analysis of the destruction to determine the best route for fire damage restoration for your residential or commercial building.
Recognizing Mold Damage
Even though the desert southwest isn't known for having a damp, wet climate, mold can and does still form in the homes and offices in Chandler. Because these building have dark, enclosed spaces that can become damp, such as basements and bathrooms, mold can spawn and grow and become a destructive force that needs to be eradicated. We at Dry Now Services provide assessments and estimates, free of charge, to let you know the areas and extent of damage and what kinds of repair or restoration are needed.
Protecting Your Home From Storm Damage
And of course, if you live or work in Chandler you're no stranger to the severe wind and hailstorms that can beat up your commercial or residential property. When a storm watch or warning comes in, just call us here at Dry Now Services and we'll help you get prepared for the inclement weather by tarping and tying things down, boarding up windows. If your property has suffered damage due to wind or hail, you can simply call us in for storm damage restoration, and we'll repair or restore your property until it's good as new again.
Chandler, Arizona is a gorgeous place to live and work, with shopping, golf and dining experiences galore for visitors and residents alike. There's nothing quite like damage to your home or office, though, to lessen the pride you feel in your property.
Call Dry Now Services, and we'll take care of any and all of your damage restoration needs.
Recommended Reading