Damage Restoration Services in Avondale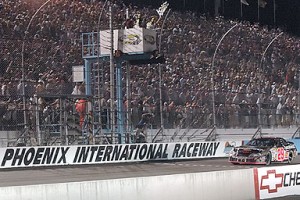 Avondale, Arizona isn't your average desert metropolis – located a mere 15 minute drive from Phoenix, Avondale is host to NASCAR, and a premier destination for people looking for the most out of their shopping, dining and arts experiences. Home- and business owners in Avondale are equally aware of the beauty of her streets and countryside and the need to keep their property safe from destruction or damage. No one wants to take the time out of their workday or fun nightlife to deal with the headaches and frustration that come along with damage restoration – and with Dry Now Services, Avondale's residents and business owners don't have to. Our experienced and licensed technicians have established a reputation throughout the greater Phoenix metro area for excellence and reliability in all forms of damage restoration.
Water damage can do more than ruin your carpets or furniture; your flooring, walls and the very foundation of your property can be weakened, destroyed, due to the water damage. When that happens, call us here at Dry Now Services so we can come in and take care of all your water damage restoration needs. From leaky faucets, burst pipes or forgotten running bathtubs, we can remove, repair and restore whatever your home or office needs to get back to a livable state, and let you get back to more entertaining endeavors.
Fire Damage Cleanup Experts
Fire is a dichotomous force, pairing the life sustaining heat of its flames with the destructive effect the heat, smoke, fire and water (used to put the fire out) can have on your property. Even the smallest flicker of flame can turn into a raging inferno, one that can gut buildings and wipe out city blocks. But, when your home has been thankfully spared total annihilation, the annoyance and headaches of fire damage restoration can bring a whole new level of frustration to your life. We at Dry Now Services pride ourselves on our quick response to a fire restoration call, arriving on scene to administer mitigation practices immediately, followed by an assessment that determines the extent of the damage and the restoration that needs to be taken care of in the following days.
Mold Testing Assessment
You might not be aware, but mold can flourish anywhere there's a damp environment, so even in a dry climate like Avondale, your home or business is still at risk of an infestation in areas that see a lot of water, such as bathrooms, laundry rooms and even your basement. If you suspect mold in your residential or commercial property, call Dry Now Services. We'll give you a free mold assessment and estimate, letting you know where the mold is and what damage it's already wreaked, as well as the steps that we'll need to take to eradicate it right, the first time. Whether it's a good solid cleaning or we need to actually remove sections of walls or flooring, you can rest assured knowing our licensed professionals can handle your mold damage restoration needs quickly and reliably.
Storm Restoration Services
While we may not see very many torrential downpours here in the southwest deserts of Avondale, we just can't say the same about wind or hailstorms. And these storms can have a catastrophic effect on commercial and residential buildings without the proper preparations in place. Call Dry Now Services – we'll send someone in to handle your storm preparation needs, from placing tarps to boarding up windows. And even after the damage caused by wind or hail has occurred, we'll come in to repair or perform storm damage restoration services to help your home get back to its former beauty.
Avondale, Arizona is well-known for its overwhelming beauty, the wonderful nightlife and the hundreds of activities in the area that make it a fun place for just about everyone. But there's nothing fun about damage restoration, so when your home or business property is in need of some repair and restoration, call us.
Dry Now Services has a reputation throughout the greater Phoenix area for reliability, excellence and pride in all of our work.
Recommended Reading